We can chat here too ! Explain him the main feature of discord poke Ash !
Yeah, I will check in on discord every day with everyone just to remind myself to not relapse today.
I am already on discord. @Ash_Matt has already explained me some of the stuff.
I don't have much to write today. My exams are here. Since i relapsedi haven't followed any routine today. I am studying. It's already midnight i will do the meditation and then study.
Check in day 1
Meditation
Pushups
Running
Study
Check in day 2
Meditation
Had exam today. It went better than i had expected. There are lot of work i have been ignoring i have to do.
Did pushups. Going for run. Still looking for Hiwi jobs.
Guys I am leaving this forum for few months. I really have to focus on my studies whether I relapse or not. I have done that kind of thing earlier. I have to do again. Because failure to do so will cost me heavily. While on this forum I made some good friends which I would like to be in touch with. Found lot of motivation, learned new things which I wouldn't have learned otherwise.
It's the only place where guys brag about not having the girlfriend. Which really hit me differently. Because I used to brag about having the hot girlfriend. But anyway I will keep fighting with it my own.
Better not to leave the forum but to use it less often. Companionship is really important now.
Yes bro. Maybe I should make a weekly Schedule only 2 to 3 days in a week for 30 min or something. Thanks you have been great support.
@raushan Yes brother, that is a good idea. Better than not using the forum. Why not use something beneficial if you can?
I have relapsed more recently than the average. I will keep that in control.
There is a workload more currently.
But anyway we can take relapsing as another excuse for not working.
Remember the concept of Karma. There is a guy called Charles Munger. I highly recommend to read his essays.
His one of the quote I like In the long enough timeline you deserve what you get. So do not worry about the immediate fruits of your actions.
Karma is you will get fruit for what you're doing. When you think you can't work just because you relapsed remeber there are people who do the work even when they are dying because they have to. There are no ther Choices for them. A human have far more than energy we can imagine.
Thanks bro. Yeah writing helps me too mentally. I will keep writing. Your posts are motivational too.
I think I will be more regular in my diary. Yeah this forum does keep the motivation to not relapse. I guess I have to somehow integrate it with my day to day life.
Start 7 days as target… U will find it easier
So sometimes I feel more comfortable on this forum than outside. Maybe it's due to lock down I am not able to meet lot of interesting people. That's definitely true. The people I hang out currently think me completely weird. They think how come some guy can live spend so much time alone. It's not a problem for me now that I am older. I know myself better than I used to.
I am doing fairly better. Apart from regular meditation I do death meditation for 5 minutes at least 2 times. It gives me jolt to my head. Really we have very less time on this earth. We don't consider we are mortal. We should use each and every minute of our time well.
"Let us prepare our minds as if we'd come to the very end of life. Let us postpone nothing. Let us balance life's books each day. The one who puts the finishing touches on their life each day is never short of time." —Seneca
Choose to die well while you can; wait too long, and it might become impossible to do so. —Gaius Musonius Rufus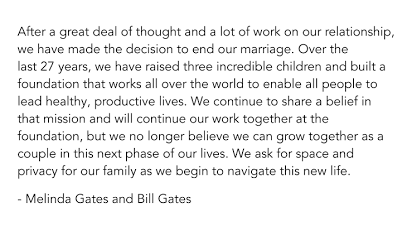 Man does anyone know what women want. Even the richest person in the world is getting divorce. I am sure it's not Bill Gates decision.
This one really hit me , I don't know how to react on this. I gotta watch the full news to know more about it.
Jeff bezos have also got divorced 2 years ago , Elon musk have also been in relationship with many girls. I don't know why these successful people don't get successful in marriage life. May be it's too complicated?
Coz they want to do more big things in life . Being married and raising kids is not an easy job . One has to give attention to his family Nd don't take risks for secure future of Family …When man is Alone he has very few responsibilities and more time to focus on career … That's my thinking I maybe wrong