Day 42
I feel productive today , I fell above my expectations and didn't waste any time on youtube . Did my practical work and studies for 3 hours . Now my next target is to reduce discord usage , if I succeed , I'll then focus on managing time with all the things I have to do .
#STAYIN MOTIVATED #STAYIN STRONG
Sure @a_lone_warrior05 bro, would like to know any specific reason so that i stop using this emoji. Pls advise.
May 17
Day 3 (SR)
Wake up at 5.30 am. 30 minutes earlier than yesterday. Will do a great increase in my habit. Consistency is an important thing in habit building. On doing such habits for 15 to 30 days. Definitely it will come into a safe zone.
Bhai woh emoji sajda ka hai aur sajda sirf aur sirf Allah ko kiya jaata hai
Sahi kaha @a_lone_warrior05 bro, mujhe laga tha wahi hoga…i agree with u bro



@NofapperAADI u r doing great…stay motivated stay strong and keep going bro



@Djalan bro truly said Consistency is the key to build habits… keep grinding and keep growing bro


Check in - Day 36 NOFAP / Semen Retention.
Got up at 6:00 AM today, yesterday was tired and was feeling cold and headache so got up late and couldn't do early morning meditation, will do meditation in evening now.
Will try to get up at 4:30 AM again from tomorrow.
Went to Gym and did workouts today Back and Biceps. Took cold shower.
Feeling blessed and at ease.
All good… Glory to God.
Check in Day 43


I was not feeling like studying today because I am going through mental ups and downs , one day I am clear , motivated and able to think , the other day my mind is clogged . I don't mind those but they affect my studies . But we'll not give up after all till when would it follow me , max 60 days - 80 days , after that semen retention will start and it will have to lose .
Still managed to do so math and hit the coaching
Semen retention is a key tool bro @NofapperAADI …it enhances focus and determination with persistency which develops productive habits without much effort. Am sure you can do well in your studies, just a matter of time.
Yesterday I was on Day 35 semen retention, and went out with family for long drive, didn't want to but had outside junk food, Today i developed Fever and cold, feeling like all my efforts lost because of lifeless and weakness feelings due to fever, still managed to go to gym and did Dead-lifts, all Back muscles workouts and Biceps muscles workouts. Hoping to be better by tomorrow.
Day 4
May 18
Challenge Not completed.
Wake up at 6.00 am.
Check in - Day 37 NOFAP / Semen Retention.
Got up at 4:30 AM today but was still down with Fever and weakness. So slept again and thought not to go to Gym, but some how again woke up at 6:30 AM and took Cold shower that's when i realised to let's do the workout today, that's the challenge. So went to Gym and did full sweat out workouts of Cardio and CrossFit. Ran on Treadmill for 30 mins non-stop and burnt 315 calories, did elliptical, Ab crunches, Hanging leg raises, Battle Ropes, Today i also did 'Plyo Box Jumps', Rope jumps, Single leg Rope jumps, Boxing

, and today i also did something new 'Upside down hanging crunches'.
Feeling better and at ease.
All good… Glory to God.
Am sorry brothers, I relapsed today on Day 38 Semen Retention by having real sex and intimacy with my Wife today morning.
Sorry brothers once again, couldn't go to Gym today… Hoping to back in the gear soon.
Will re-start my counter streak today.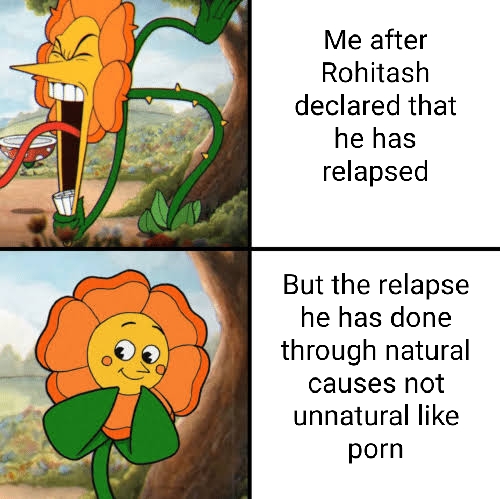 At least you choose the correct way
Day 2
May 20
Challenge not completed. Wake up at 6.00 am. Will do it tomorrow.
Day 46
Did really well , reduced social media time . I went to watch a lecture in youtube but a conspiracy theory popped out in my suggestions and that made me watch the whole playlist

. Still managed to study around 5 hours and a lil bit of math
Superb @NofapperAADI that's really awesome u studied for 5 hrs…keep grinding bro


@Djalan you can surely do it tomorrow bro…keep trying, every step taken gets us closer to our real goal



@Rohitash ey bro, I'm taking a short break from this forum. As you know that, I'm very busy to complete my chapters. So I haven't enough time to update or do anything here. So I'm taking a complete detox from these all social medias. My wake up and bed time schedules are making me more tired. Today i was very sleepy on day time. So bro please remove my name from this challenge. I will be able to connect here after 2 months. Hope you could get me. Thank you buddy

Thank you all
@Rohitash you are amazing bro. You motivated and inspired me well. I loved it. Thank you my freind


I will wake up early even I'm not able to update here. I will surely come back here after 2 months.

By
Sure bro @Djalan, noted…wish you all the very best and am sure you will excel in whatever you do because you have the willingness to do it and where there is a will, there's surely a way too.
Do well bro and i wish u all very best for your studies, exams and all future endeavours.
Feel free to join us whenever you feel like.
Take care and God bless you bro


Check in - Day 0
Got up at 5:00 AM.
Finally pushed myself to go to Gym today.
Did Chest workouts and walking on Treadmill.
It's a long way to go.
Going to read a book now.
Glory to God.
I like this community my goal now is to reduce unproductive app usage - all kinds of social media to less than 15 mins/day…
Will keep updating daily!!