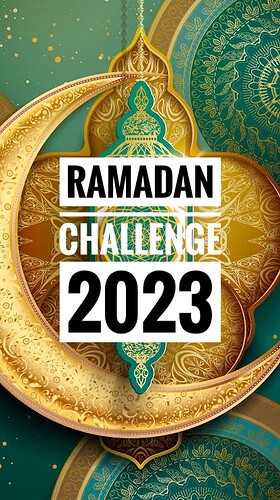 As the name suggests, this challenge will begin in Ramadan. The goal is to use this magnificent opportunity of Ramadan and achieve the streak and self-control we could not achieve before.
FASTING is the number 1 weapon against sexual urges. It is normally very difficult to fast continuously alone in your house to gain power over PMO but in Ramadan every Muslim fasts for 1 month!!!


Let's use this once in an year opportunity to our advantage.
Those in chaser effect, be prepared to break free and have a 1 month super awesome streak

!!!.
Those already having a streak, be prepared to power up and be awesome even more

!!!
To take part in this challenge, reply in this format
Name
Current streak and Highest streak
Your best tip to overpower urges / avoid relapse
Everyday check-in for accountability
This is highly recommended. Check in and update your progress regarding the following positive habits you need to build.
Avoid Triggers/ Guard eyes or Limit use of screen for entrainment
It's obvious that avoiding Triggers is a prerequisite to a long streak. Stronger the eye guarding, the longer the streak.

Number of Salat offered in masjid and/or home ( with focus and understanding )
Taraweeh offered yes or no ( Taraweeh is a test of your willpower. You need to strengthen it.)

Quran read /listened with translation. Either by number of pages/Surah/ayaat or time spent

Zikr and Tasbeeh with concentration on its meaning and love in heart
Either by number of Tasbeeh or time spent

Exercise
Yes, this is very important for improving mood and decrease withdrawal symptoms if any. If it is difficult to exercise, let me tell u secret.
Just exercise for 15 minutes right before Sehri or Aftari!!! It will be mentally and physically very easy.
Or you can exercise in between Aftari and Sehri. Your choice, what's feasible for you.

Any other positive habit you wish to develop.
Important Advice
Fasting is difficult in normal days but not in Ramadan. You will be already fasting in this month. So why not have THE BEST QUALITY AND MOST PRODUCTIVE STREAK!!!
Just for this month, forget whether a task is difficult or not. Just do it!!!.
Avoid all triggers!. Protect you eyes!.
Imagine the super powerful motivation you will develop building all those positive habits!!!
Imagine how proud you will be at the end of the day when you would have offered all your salat on time, exercised self control and made your day productive!.


You have the POWER to CHANGE YOUR LIFE. And RAMADAN is THE ULTIMATE HELP FROM ALLAH ALMIGHTY!
USE THIS OPPORTUNITY WISELY.
Take part in this Ramadan Challenge and be prepared to go all out on building the foundation of your POSITIVE, PMO free and healthy lifelong habits.
P.S. Everyone is welcome