Hey folks

,this is me your brother Alan. Hope you all going good with your life.
Today I'm gonna share my thoughts and doubts here.
Do relationships damage our studies?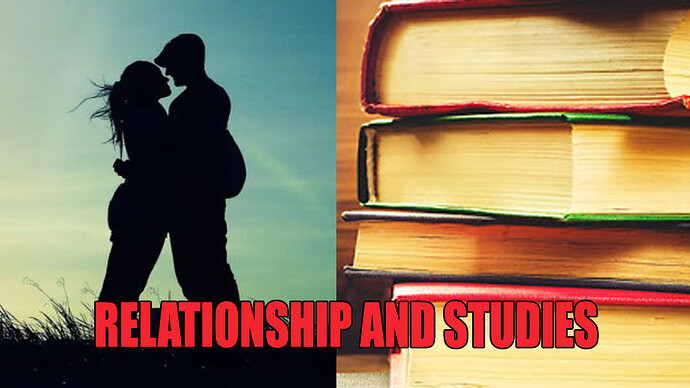 My High school Life (2017 to 2020)
Story starts from here
Me and My close freind named Akash was the toppers of our high school. We were close freinds at that time and helped each other for studying and studied as a competition for both. During 9 standard he got a crush and he asked for her love. After 2 or 3 months of his effort. He got her and they became a bettter relationship. The girl was also an outstanding performer in her studies. Their relationship gone good. But both of them didn't get distracted from their studies and they got higher marks like as before. During the 9 nth standard, he was the topper of our class. And I was the second


Then 10nth standard had started. Studies gone good. Exams gone good. Their relationship also gone very beautifully

. Do you know a fact that, i was single at that time and I was busy of watching their love and talks



. Ok then our school anniversary competition was going on. I was a performer in our school parichamuttu kali team. I was resting alone at our library. Suddenly a girl from 9 th standard came to talk with me and I know her before. She enquired my relationship status and she get knew that I'm single



** suddenly she started to say that, one of her freind is deeply loving me and she described the girls attitude about me and her love towrds me. I was a bit surprised and confused. I don't know what to say or how to respond. Then the day after that day, I said yes to that girl and her face get bright.
Funny fact, i don't how to become romantic and how to talk to my love



Our relationship gone for many months without any problems. But my studies gone down. My teachers noticed that and they get knowledge about my side business


. The whole 40 teachers and the whole school get heard about that.
Then everyone scolded me and our relationship got an end with a break up.

Again i got single.
Then my studies gone good as before. I studied the whole syllabus within a month and scored A+ for full subjects and scored 99.1% of marks.
Then I entered to a new school for my higher secondary education. First year gone brilliantly and I got full A+ for all subjects there and the second year started. At that time I got an news that my ex girlfriend ( my 10nth class lover) is still loving me

and she is waiting for me as extremely. In these two years she doesn't get pointed to any other guy and still she is focusing on me . I was very surprised to know that. Then I started messaging her. And she said everything and we both started our relationship again

. Now it's a mature relation. I made a better time table for messaging.
Everyone in those social medias and other experienced guys say that, studies and relationships can be managed perfectly. But I'm trying to practicing it for the past two months. But I don't how to make it perfect or give more focus on my studies.
So my question is , how to manage it both?
tips to carry relationships which do not harm our studies
Experienced guys pls share your thoughts and make a discussion here.
Thank you guys for your time