Lute ou morra!
Dia 11/08/2020 - Queda! - Seu Exílio.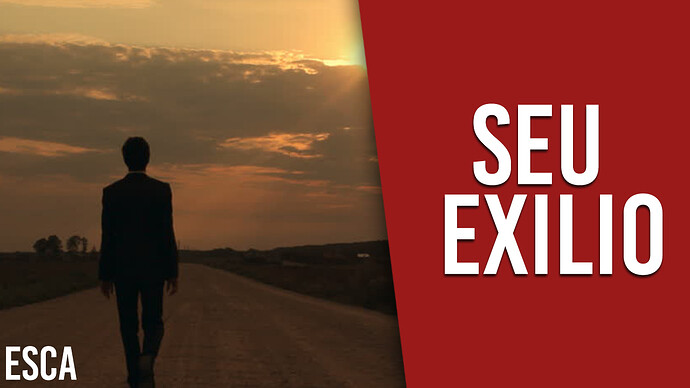 Seu Exílio
Andas por esta terra desde o dia que nasceu e desde então caminhas para a morte.
De fato o destino de todo homem é no fim da vida voltar para aquele que lhe deu esta vida, a morte vem desde o dia de seu nascimento e você nem ninguém vão escapar dela.
Alguns a temem, outros passam a vida fugindo de seu destino certo, tudo e todos a sua voltam morrerão. Aqueles que temem a Deus não temem ou não deveriam temer a morte, nunca é um fim, seja para paz e descanso eterno ou para a condenação daqueles que amaram mais as trevas do que a própria luz.
Nada de novo se faz nesta terra, tudo o que um dia foi voltará a acontecer, nada se faz novo de baixo do sol.
Quando nos damos conta desta situação fica claro que, a busca de Deus é necessária, praticar a santidade, controlar impulsos raivosos, controlar os mais vis desejos é um dever.
Não se deve dar importância a tesouros e bens, mas se juntar tesouros nos céus como nos disse Cristo. A importância que o individuo dá a si mesmo gera timidez ao falar de Cristo, gera medo de perder a vida, trás preocupações com tesouros e bens, trás a si mesmo como centro das vontades de sua vida, leva a temer ou se envergonhar de professar sua fé.
Somos pobres exilados longe de nosso lar celeste.
Estamos apenas passando um tempo aqui, logo se aproxima o dia de nossa morte.
E dizia a todos: Se alguém quer vir após mim, negue-se a si mesmo, e tome cada dia a sua cruz, e siga-me. Lucas 9:23
Devemos lutar contra a carne.
Quero propor um desafio com quatro etapas que deverão ser seguidas diáriamente:
Orações e jejum de DUAS horas DIÁRIAS seguidas de leitura da Bíblia (mesmo para os não crentes). Não se atinge a pureza a santidade sem estas três coisas.
Exercícios físicos ou leitura, escolha um.
Escreva em um diário ou algo do tipo, aqui é um exemplo. Escrever um livro ou uma história que sempre te atraiu pode te ajudar a ocupar o tempo que gasta com isso - lê se FAP.
Caso vá para o banheiro não leve o celular, não fique sozinho com eletrônicos, não fique sozinho. Banhos gelados somente.
Segurei tais passos com muita dificuldade, mas estaremos lutando.
Tiago 4: 4-10 "Infiéis, não compreendeis que a amizade do mundo é inimiga de Deus? Aquele, pois, que quiser ser amigo do mundo constitui-se inimigo de Deus…
Vamos sair dessa. Deus abençoe a todos!
Por Esca.
IN ENGLISH
Translated by Google.
Challenge - Fight man, or die!
Your Exile
You have been walking this land since the day you were born and since then you have been walking towards death.
In fact, the destiny of every man is at the end of his life to return to the one who gave him this life, death comes from the day of his birth and you and no one will escape it.
Some fear it, others spend their lives fleeing their right destination, everything and everyone around them will die. Those who fear God do not or should not fear death, it is never an end, either for peace and eternal rest or for the condemnation of those who loved darkness more than light itself.
Nothing new is done on this earth, everything that once was will happen again, nothing is done again under the sun.
When we realize this situation, it is clear that the search for God is necessary, practicing holiness, controlling angry impulses, controlling the most vile desires is a duty.
Treasures and goods should not be given importance, but treasures in heaven should be added as Christ told us. The importance that the individual gives to himself generates shyness when speaking about Christ, generates fear of losing his life, brings worries about treasures and goods, brings himself as the center of the wills of his life, leads him to fear or be ashamed to profess your faith.
We are poor exiles far from our heavenly home.
We are just spending time here, soon the day of our death approaches.
And he said to everyone: If anyone wants to come after me, let him deny himself, and take up his cross each day, and follow me. Luke 9:23
We must fight against the flesh.
I want to propose a challenge with four steps that must be followed daily:
TWO DAILY hours of prayer and fasting followed by reading the Bible (even for non-believers). Purity and holiness cannot be achieved without these three things.
Physical exercise or reading, choose one.
Write in a diary or something, here's an example. Writing a book or a story that has always attracted you can help you spend the time you spend on it - read FAP.
If you go to the bathroom do not take your cell phone, do not be alone with electronics, do not be alone. Icy baths only.
I took such steps with great difficulty, but we will be fighting.
James 4: 4-10 "Infidels, do you not understand that the friendship of the world is an enemy of God? Whoever wants to be a friend of the world is an enemy of God …
Let's get out of this. God bless you all!
By Esca.