Hey guys , hope you all doing good
The reason why I wanted to create this diary not for me but also for everyone to read about what is happening to me , what I am becoming in a short time
This is going to be a bit long , but just to tell my story
I won't say how I discovered it , got addicted and how much I have been damaging myself ( wasn't too long though )
Before I download this app April 12th , thoughts were coming to my mind like this : its been two boring days full of studying , go to the browser … But that never happened I opened Google play instead typed "no fap" just that simple , picked a random app with was this (fortunately ) then spent two hours reading posts and know the whole app
Before I joined I had two days clean with me which encouraged me to try this
I never thought I would get over a week with the best case scenarios , but saw you Guys breaking borders , competing and most importantly helping and encouraging each other to go back to who we really were , the next day when I talked about what was kept within myself and people read it and acted to it , I felt some kind of relief and got me fueled to challenge myself even further .
Currently going my sixth day , want to raise my country flag international competition ( well everyone loves his country , right ? )
I won't tell you that I can fly now or I say what I want to say to anyone , or became free , or any philosophical lines , I know its necessary for motivation , even movies overreact to get the point to the viewers and to urge them to understand the moral of whatsoever a movie was talking about
But I would say that I finally found myself ,I study harder now and got plans for the summer holiday , acting positively to different situations with my family and beyond it ( which was not available before ) and bdw I didn't get religious for just testing if my mind really got awake and would never ever go back to the dark side
Actually during fapping I was the worst person religiously cuz I was just not here , I was in another world not seeing or feeling anything if not inside me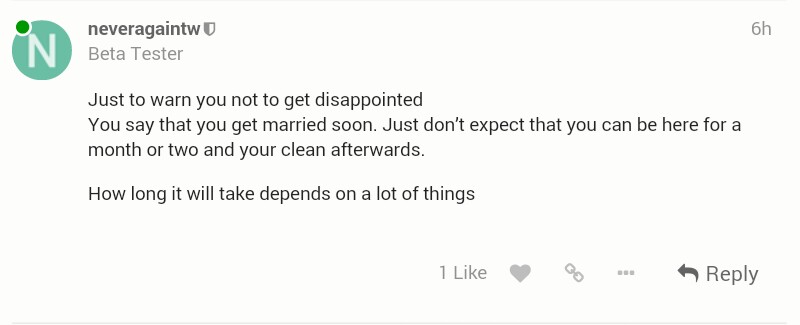 @neveragaintw that guy is amazing , he didn't mean it but when he said that he accidentally fueled me to prove to all that you can do it from your first try ( my highest streak was 8 did it two years ago bdw )
My word to everyone who is depressed and feeling sad is :
Getting back to it could have one good benefit of two but other than that its completely damage is all
The reason why you feel different during your journey against it is that you basically become happy as you are winning over a thing , whatever it is , you are WINNING and that is achieving something , just like games , your relationships with people , getting a high degree , so you are on the right direction always remember that , you only fail when you are weak , but if you got your reasons and you know your enemy , well shit ! It won't stand a chance !!!
I hope there would be someone still reading that far but really I don't do much of these daily unless I felt weak , but assure you won't happen