Finally , the season 4 of my challenge is out! its related to POKEMON, but dont worry, you dont need to have any knowledge about pokemon, you will understand everything about the challenge as time goes! I am saying again , Our main goal is to get 30 days of nofap keep that in mind. i will try my best to make it interesting!
First of all read the rules, regulations and features of the challenge carefully!
Rules and regulations---->
1. to enter the challenge , give your sharing code and age
2. you need to check in daily , if i see someone inactive for long time, he/she will be elliminated
3. You can share your experiences here or can post motivational things!
4. Stay consistent at work
Features of the challenge!
1. Everyone joining this challenge is a pokemon trainer!( a trainer is a person who trains pokemon)
2. You get to pick a starter pokemon from all the pokemon i give ( a starter pokemon is a pokemon which you get at the begining of the challenge!)
3. There will be many events coming in the league , always stay updated!
4. You get gym badges on completing 1,3,5,7,12,14,20,30 days . (A gym badge is like an award)
5. On winning a gym badge , you get to choose a pokemon from a group of pokemon given by the admins
The winners of this challenge can Enter the The nofap league!
Inside challenges---->
Yes you heard it right! you will battle against other trainers joining the group! give your best!
All challenges will be controlled by me, you dont need to tag anyone, i will choose your challenger!
Your pokemon will level up like this by winning or drawing matches with other challengers!
i will explain it later!
on reaching level 16 and 36 your pokemon evolves (I will explain about pokemon evolution)
Dont get confused our main goal is to reach 30 days of nofap! We can do it!
If you have confusions ask admins by tagging them or DM ME
Our motto: never gonna give you up never gonna let you down!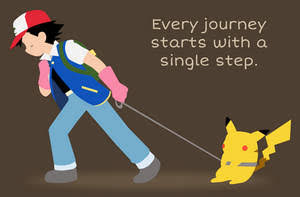 WINERS OF NOFAP LEAGUE WILL SEAL THEIR NAME IN HALL OF FAME!
Trainers are you ready?