Entries are open till 11/6/23. Those interested please provide ur Username and sharing code.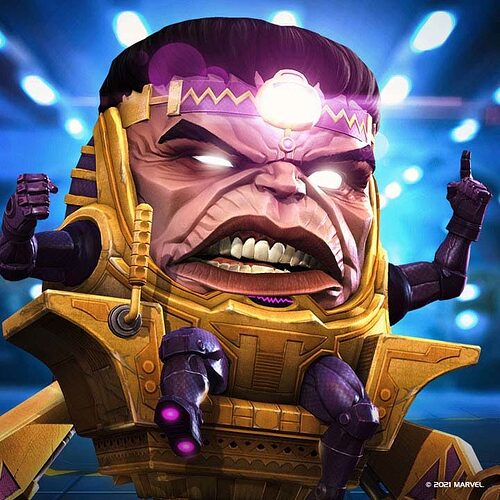 The Revenge:
After that intense battle of Season 3, Group A members finally won. They destroyed Corneator once and for all with the help of MODOK of Earth 3605 and THE BRAIN of Earth 365, who were released off prison after their task. There were no more inter dimensional portals…. No more uninvited guests…… none longed for that anymore! Peace prevailed for 3 years……
But the MODOK and The Brain were booed by rogue civilians constantly all these years. They were accused of mass destruction and creation of corneator. Their efforts in destroying Corneator were never acknowledged. Avengers of Earth 3605 and Justice League of Earth 365 constantly kept visiting MODOK and The Brain to keep them in check. Prison bondage for no reason, Humiliation…… Nothing was positive for them!
Eventually they turned cold…… and decided to destroy every super hero on their respective earths…… they felt all superheroes were unworthy of people's praise and they were in reality entitled to such glory for stopping corneator!
THEY WANTED THEIR REVENGE TO BE SERVED COLD!
Earth 3605: Red Box
After 6 months, MODOK created a giant fighting arena called Red Box. He teleported all superheroes of Earth 3605- both Marvel's and DC's. MODOK filled Red Box with telepathy. He controlled all superheroes into fighting among themselves. The fight was intense, eventually they formed into two groups to fight each other- Group A & Group B.
Rules:
Stage 1:
Choose the group and superhero u want to play - only superheroes, no villains and no repeatations please. Remember, either group serve no particular motto but choose your group wisely as ur rivals can affect ur points. Expecting 5 players in each group to start the challenge. Stage 1 will be in round robin format, 3 days for each match. More players, more days for Stage 1 to end.
No peeking, watching and fa*** when Stage 1 begins
Win > +2 points
Loss > -2 points
Tie > +1 points
Need not check in daily here, but always keep ur counter updated or inform here if u relapse.
Visit post 4 for Stage 1 matches
Visit posts 2 & 3 for Stage 1 results.
Stage 2 Rules: Top 4 players will proceed to Stage 2 (Top 4 is tentative, subjected to players performance).
Earth 365: Blue Box - thats for some other day


Welcome aboard buddies