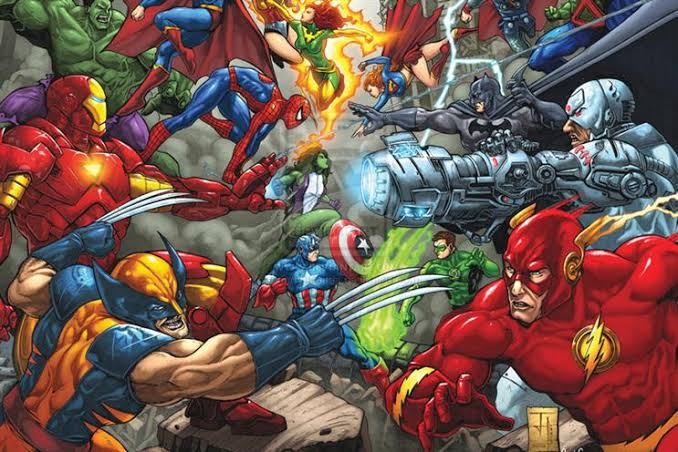 Summary of Season 1

Summary of Season 1:

MODOK of Earth 365 and THE BRAIN of Earth 3605 communicated each other and tried to eliminate their enemies all with the help of "Corneator"…. they were almost successful as their "Corneator" made their enemies senseless and pick up fights with each other… only until these mad villains tried to update the "Corneator" and eliminate their opponents from each others' earths too…….The experiment by these two geniuses almost worked. Their experiment opened a multiverse door momentarily, creating a "semi final" war back then between the strongest of "Civil War" and "Injustice" caused by "Corneator". Semi-finalists however were at the right time in right place!!! THE EXPERIMENT FAILED to proceed to "Finals"…….thus bringing back everyone into their senses and into their respective earths again!(But only Semi Finalists could understand the existence of Multi Verse right before they were brought back to their earths") The "Corneator" was destroyed along with MODOK and THE BRAIN in a blast!
What about the MODOK of Earth 3605 and THE BRAIN of Earth 365? They are arrested and secured by the respective semi-finalists of their Earths, who are the only ones to know about the "Corneator" and the existence of Multi Verse. Nobody knows their potential and the specific reason they are arrested for, except the semi-finalists !!!
Storyline of Season 2 - part 1

(Earth 3605)
On a dark night, the Knight of Gotham asked for the help of New York's local champ- Spiderman….
Spiderman: Woah…….Batman…… Sir!..Its an honor to work by your side……thanks for the invite….
And they both chased away gotham's naughty villains……
Spiderman: that was fun, thanks again batman sir……
Batman: You are welcome, Parker…
Spiderman: What!?? How did you……
Batman: Im Batman!
Spiderman: there are people out there who know my real name!? this is not good for me……
Batman: Your secret is safe………
Spiderman: Well, im sure u could've handled those goons alone….and u r not here to expose my identity too……then what's up sir???
Batman: Peter, you are very gifted in astronomical & genological sciences……If only you could assist me with my project on multi……
Spiderman: Hold on sir! Hold on! Wait a minute….Why would I help you anyway??? Cause u r Batman?
Batman: No…Youll do it for Ben Parker……
Spiderman: Why would you say that name…What do you know about him?
Batman: I can help ypu meet him again….
Spidemran: What? Now u r a God??
Batman: Listen kid……I need your help in opening a multiverse……Theres a Ben Parker who lost his Peter Parker on Earth 375………Ive seen it…….the things that a "Corneator" can do…….
(Proceeds to say summary of season 1)
……All Im saying is, lets just grab him here so you both can stay happy forever……
Spiderman: But Tony Stark warned me to never mess with it……
Batman: Tell me Peter, do you want that aging Ben sob till the end of his life? Imagine u both reuniting…don't you want to end his misery? Don't you want to end YOUR misery? I know the risks, just need your assistance to pull it off………
Spiderman: What shall I do?
Batman: Ive replicated the "Corneator" in my Bat cave, running it would only replicate the tragedy of MODOK and THE BRAIN blast! I need you to prepare a formula that would make the "Corneator" open up the precise Earth we want……Earth 375, where Ben's alive….
Spiderman: lets head to ur Bat Cave……
(After 3 days……)
Spiderman: Ive made it……its ready……This formula would enable "Corneator" to not explode even if we fail to be precise in opening Earth 375……thats a good news and bad news right?
Batman: yeah good because we wont end up like MODOK and THE BRAIN……Bad because we might end up inviting uninvited heroes and villains here and make them senseless and create another "Civil War" or "Injustice"……We have to do it as accurate as we can!!!
(Computer: "Corneator" activated……Earth 375 locked)
Spiderman: Thanks Batman……
(Computer: Multiverse door opening in three……)
Spiderman: But ive always wondered……
(Computer: ……two……)
Spiderman: Whats there in all of this for YOU??
(Computer: System Error….Locking Failed…….)
Spiderman: You cheat……this is for your parents right??
Batman: Im sorry……
(Computer: Overloaded……Multiple Earths opening……)
To be continued!
Rules:
This is a Marvel vs DC challenge in teams Format.
There are total of 4 teams per side. Each team has three players max. (No. of teams will be increased if necessary) U will get to name ur teams once the entries are filled.
Every team will face off each other in a Set. Every Set has three rounds. Each round is played for three days with three matches in each.
To make it clear lets say first Set is between Team 1 of Marvel and Team A of DC.
Round 1 goes like this for three days:
1i vs Ai (match 1)
1ii vs Aii (match 2)
1iii vs Aiii(match 3)
Round 2 goes like this for three days:
1i vs Aii (match 4)
1ii vs Aiii (match 5)
1iii vs Ai (match 6)
Round 3 goes like this for three days:
1i vs Aiii (match 7)
1ii vs Ai (match 8)
1iii vs Aii (match 9)
After such set is completed, Team 1 of Marvel immediately faces Team B of DC and so on…
So this is an non stop action challenge! Start n end dates of every match are fixed… So only true winners will emerge as winners!
Points system:
Obvious basic rules are no Peeking/watching/fa**ng…
If both contestants clear three days, its an tie resulting +2 for each.
If one contestant fail n other doesn't then -1 and +1 respectively.
If both fail, 0 points for both…
Since this is a non stop challenge, no breaks will be there in between like Season 1!
Provide ur sharing code and the character u want and keep ur counter on app always updated to join! No need of daily check in, but keep ur counter updated.
Teams will be increased if necessary, "first come first get" will be the policy. Challenge will begin once we get enough entries.
Team(s) with highest points is/are announced as winner(s)!
All the best Everyone, stay safe, wear masks and follow social distancing!