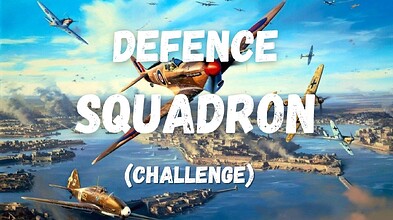 Learn About This Challenge

("On September 7, 1940, 300 Nazi bombers raided London, in the first of 57 consecutive nights of bombing" …This challenge inspired by those events).

The Triple X Alliance of P.M.O. has been ruthlessly crushing all resistance on their path for nothing less than the subjugation of the entire free speaking world.

Having conquered our neighboring allies, army intellegence indicates they will soon be unleashing the full force of their air power in our direction, starting with intensive bombing raids on our nearest city, Modeerf.

With our armed forces already in full deployment securing the border, the NAF (Nofap Air Force) can only spare two squadrons as a last line of defense for the city.

We are those squadrons!

The Mission

This is a team challenge where participants will work in pairs of 2-4 fighter aircraft, guarding the various districts within Modeerf.

Our mission is to not let a single bomber through, or lose a single civilian.

How it works

Just like in actual warfare, there will be an element of the unpredictable involved. I will be rolling dice each day to determine the number of bombers who make it through to the various districts.

If neither of the fighters guarding a district gets shot down (a relapse), they will stop those bombers and keep their district and its population from harm (each bombing raid will take 3 days without relapsing to defeat).

All fighter pilots will receive a promotion in rank for every 30 bombers stopped and medals will be awarded at the end of this challenge to the most successful and persevering aircrew.

If too many bombers get through, however, and more than half the population of Modeerf is destroyed, our government will consider the loss too great to continue…

…and surrender!

It is therefore imperative that we win the battle for air superiority and successfully defend our city for 57 28 consecutive days.

Relapse

If one of our fighters gets shot down some of the bombers will get past him, in which case the dice will be rolled again to determine how many got through, how many the remaining fighter can stop, and how much damage they will do to that district's population.

A fighter cannot get shot down more than two times

One relapse (looking at p/m-ing) is an injury - the pilot getting shot down will survive and continue the fight, injured.

A second relapse for that same pilot is a casualty - The squadron leader won't risk putting him back into the fight, and he will have to sit out the remainder of the war.

So 2 relapses and you are out of the challenge.

Why join another challenge?

Minimal requirements.
Just like @ysub's excellent Marvel vs DC Contest, I will not be requiring a daily check in here. I only ask that you provide your sharing code and keep it up to date.

There will be a roll call before the start and end of the challenge to assess whether all pilots are actually engaged or not. Ranks and medals may be rescinded if a pilot has deserted his post.

A team venture, where we all work together. Obviously I'm taking inspiration from @tagore's epic NOFAP war challenge. Think of this as a companion piece to that on a much smaller scale. The NOFAP Air Force Branch, if you will…

A unique spin.
If you do not relapse you are guaranteed promotions and success, but there is still a certain amount of chance involved with just how successful you will be, which makes things more interesting.

How to enlist

To enlist simply comment with your sharing code and I will add you as a recruit.

The 1st and 2nd Squadrons are now full. However, I'm the case of casualties we still may need you in the Reserve Squadron. See details below:

This challenge must have a minimum of 12 recruits to make up a squadron of fighters (24 is the maximum)
Well done, chaps! We now have 2 full squadrons of fighters ready to defend the city!
Still interested in joining? join the NAF Army Reserve and you may yet get called to serve.
The challenge is now closed.
---
- NAF Fighter Command HQ -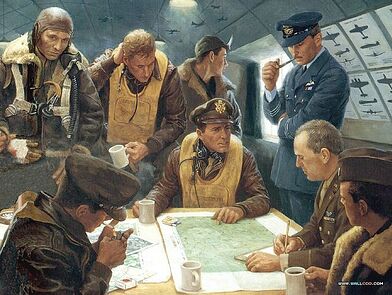 Here you can keep up to date on the progress of our pilots.
The number next to this

symbol indicates the number of bombers who made it past that specific fighter.
The number next to this

symbol indicates the bombers that fighter has destroyed.
The goal of every man on our crew is to keep the first number to zero and to not allow a single bomber to drop its deadly cargo.
Click the "(details)" tab below the various districts to learn more about them.
DAY 28
City of Modeerf
Bombers Destroyed: 1,343
524,000
| | | | | |
| --- | --- | --- | --- | --- |
| Kinniard Station: | | 88,000 | 67,000 | |
| Hadleigh Downes: | | 104,000 | 93,000 | |
| Chesterfleur: | | 66,000 | 0 | |
| East Burghlow: | | 59,000 | 35,000 | |
| Fairencourt: | | 99,000 | 51,000 | |
| Suthernby Square: | | 108,000 | 98,000 | |
Current Population: 344,000
---
Squadron Defenders
Sector 1
District: Kinnaird Station
(details)

Population: 88,000
| | | | | |
| --- | --- | --- | --- | --- |
| Rank | Squadron 1 | | | |
| Officer Cadet | Keats | 10 | 15 | |
| Wing Cdr. | Sasuke | 0 | 76 | |
| | Squadron 2 | | | |
| Wing Cdr. | saksham3 | 9 | 61 | |
| Air Cdre. | GOVIND-19 | 0 | 82 | |
| | Reserve Squadron | | | |
| Officer Cadet | VARAD | 17 | 0 | |
District: Hadleigh Downes
(details)

Population: 104,000
| | | | | |
| --- | --- | --- | --- | --- |
| Rank | Squadron 1 | | | |
| Officer Cadet | vickyx | 27 | 19 | |
| Group Capt. | pingpong1 | 0 | 80 | |
| | Squadron 2 | | | |
| Wing Cdr. | rewire_user | 7 | 65 | |
| Wing Cdr. | Evolved | 0 | 66 | |
| | Reserve Squadron | | | |
| Flight Lt. | RaZat | 9 | 56 | |
Sector 2
District: Chesterfleur
(details)

Population: 66,000
| | | | | |
| --- | --- | --- | --- | --- |
| Rank | Squadron 1 | | | |
| Officer Cadet | Kanu | 15 | 0 | |
| Officer Cadet | faraznazer33 | 16 | 0 | |
| Flying Officer | sam133 | 3 | 41 | |
| Flying Officer | RegretHATER | 0 | 13 | |
| | Squadron 2 | | | |
| Wing Cdr. | Njdrna | 0 | 69 | |
| Officer Cadet | ali4th | 17 | 37 | |
| | Reserve Squadron | | | |
| Flying Officer | Raushan | 16 | 39 | |
| Officer Cadet | Gokeen | 8 | 13 | |
District: East Burghlow
(Population)

Population: 59,000
| | | | | |
| --- | --- | --- | --- | --- |
| Rank | Squadron 1 | | | |
| Officer Cadet | Dean_Ambrose | 14 | 5 | |
| Squadron Ldr. | ADI1221 | 0 | 73 | |
| | Squadron 2 | | | |
| Squadron Ldr. | ysub | 0 | 59 | |
| Wing Cdr. | loser12 | 0 | 74 | |
| | Reserve Squadron | | | |
| Officer Cadet | Mahesh27_03 | 12 | 12 | |
Sector 3
District: Fairencourt
(details)

Population: 99,000
| | | | | |
| --- | --- | --- | --- | --- |
| Rank | Squadron 1 | | | |
| Officer Cadet | derinissac | 7 | 0 | |
| Squadron Ldr. | JonSnow001 | 0 | 65 | |
| | Squadron 2 | | | |
| Officer Cadet | TheBigSP | 0 | 8 | |
| Group Capt. | NOTTODAYRITIK | 0 | 75 | |
| Officer Cadet | ajaxlam6 | 14 | 8 | |
| | Reserve Squadron | | | |
| Flying Officer | piyushchandak | 18 | 41 | |
District: Suthernby Square
(details)

Population: 108,000
| | | | | |
| --- | --- | --- | --- | --- |
| Rank | Squadron 1 | | | |
| Officer Cadet | keepFighting | 14 | 19 | |
| Wing Cdr. | randomguy25121980 | 0 | 60 | |
| | Squadron 2 | | | |
| Group Capt. | WalKir | 0 | 64 | |
| Group Capt. | HealingSpade | 0 | 74 | |
| | Reserve Squadron | | | |
| Wing Cdr. | NhTbH | 0 | 63 | |