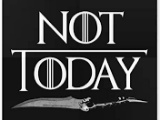 (This discussion is open for all members. No rules. No limitations.)
What do we say to the God of Urges?
NOT TODAY !
Here in this thread all those who want to make daily assertions and affirmations, can make here. Also for those, who are getting hit by urges and need to shout out "NOT TODAYYYY!!" they can do it here.
No rules, you can hit on this thread anytime you want. Because its easy to make assertions and affirmations after a relapse. But, it is very hard to remember them when urges hit. So you can shout your emotions here in your hard times.
Only rule :- no arguments, no fights, no intensionally poking others, no disrespect towards others on any sort of grounds.
Only and only moto :- Stay strong on your commitments and your precious words.