Hello there!
If you are here, you would be wondering what this group is about. In short, this is about reflection and recollection.
What this group is about:
The secret behind many successful people is one word: reflection. All successful people reflect on what they did right, where they went wrong and how they can improve.
What does this do with productivity?
A lot. This group aims to encourage you to maximize productivity. Because, even if you spend 6 hrs a day studying/working, if you are not being at your most productive, it's not a winning situation.
How do I post in this group/join it?
Simple. Just add yourself to the wiki(2nd post). But do this only if you are committed . You should update here daily, or at least every 48 hours.
What do I post?
Measure your day on a scale of 1-10. 10 being supremely productive, you could not have spent the day better, and 1 being a wasted day. Reflect privately on your choices, as all days are the same. It is just the choices that differ. Please post your reflections if you feel it will help others.
Write down one clear thing you made a mistake in today.
Write down one clear positive change you will do tomorrow, or implement in your lifestyle from this time on.
Please note:
This is experimental and the challenge may undergo changes/discontinuity.
This is not a journal. Many of the companions here may have their own diaries. This is solely from a productivity point of view.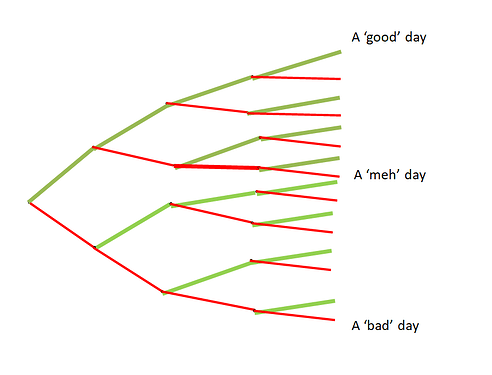 This is
your
day. The green lines represent good choices and the red lines represent bad ones. Your choices influence your day. So keep improving.