No problem bro… thats understandable.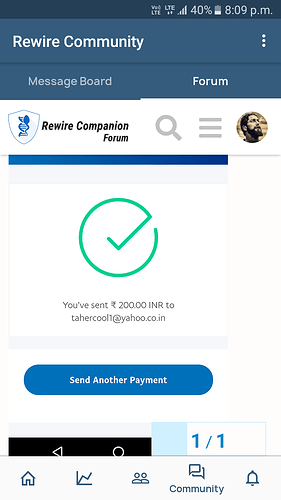 Thanks @tuku a good gesture to start the new year.
Done


@BARad @Adioz @aapoorv75 @stealthyninja349 @TheWillToLive @rowdy_nik @Special_Bird @WalkWithoutFear @Steve8822 @hellojaani
I have already promised to donate after 90 days streak. Could've completed it yet after joining here 3 months back. Alas! this time, I'm gonna make it. All thanks to this community n @Taher.
I challenge you… if you relapse before 90 days… you would donate Rs. 400 to the app as a Punishment for relapse
Do you agree ?
Excellent idea and punishment…@sahas
I am ready…
Challenge accepted…
If I relapse before reaching 90 days streak I will pay Rupees 400 to the app as a punishment…
Friends are you ready to challenge??..
@sahas…

What about you??..
Are you ready?? Brother…
Brother… i have already paid… Rs. 400 to app. Maybe Next year… i throw this challenge to you.
For now… challenge with @rowdy_nik
Bhai mera bhai… Now we're betting on it haha. You've paid 2X that's good, but sorry bro I can't do that. I have no qualms to pay for support but as punishment? Naah, I'm good Bruh.
Instead, I would want to pay 2nd time on my 6 month streak.
CHALLENGE ACCEPTED!!!
PS: currently, I'm playing by my own set of rules though! (No Porn, No Masturbation, No Orgasm by myself - with gf it's okay) What say!
Edit: Cancelled due to reasons!!!
What is this ? Does your girlfriend play with your cock ?
Umm shouldn't she? Happens once in a month or two. Btw in current streak no orgasm by any means, yet.
If its fine by your understanding… it is fine.
Sex with gf is better than fapping.
So you donate on every relpase now or what? Being Sexual with partner is okay I think.
Neither fapped before 90 days nor completed 6 months. Relapsed shortly before completing 4 months, thus donated a small amount online (first time in my life). Gratitude towdards @Taher