@NFMan I want to personally challenge you for 100 days…
You up for it??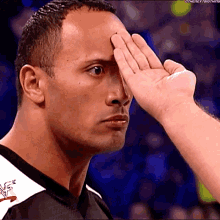 This is perfect and beautiful. The number is common in all forms of examinations. I would love to get 100/100 in this challenge.
Therefore, I accept. It's personal. We both will win.
Start date: Jan 15, 2021
End date: April 24, 2021
I will send you a private message later for further discussion of factors which will promote our success.
Match Announcement
Day Challenge
(Jan 15 - April 24)
I'll check on you every 10 to 15 days.
Follow me through my code : elmade
Let's get this done.

Definitely brother, I too will check on you every 10-15 days. Let's win.
Bro I am new here.i don't know how to start challenge.
You have good taste in gifs bro. And I couldn't edit and add in our challenge before because I had an edit cooldown. Too many edits apparently lol. Btw after this Day 100 is done, we can do more challenges. I am starting to feel the benefits of focus I love it
Firstly, you should read up on how to make your PMO journey successful brother. Have you done it yet?
Haha! I've been told this before.


Thanks

Let's finish 100 days first brother.


100 days is a long time, a lot of things can happen.
But we're both gonna win. I am feeling confident about it.


The benefits will keep coming, just don't lose your focus and commitment.
All the best



Can I get in this challenge too?
Yes brother I've read.i am fully determined to leave this forever.but Ian new to this app.could you guide me.currently I am on 22 day.
Wow congratulations on your 23 day streak. Basically we will go on a challenge. You're going to challenge me any number of days. 10 days 20 30 40 50 80 whatever. But the number of days you pick is something you know you will be able to accomplish no matter what. And during these days we will check up on eachother and advise eachother and motivate eachother or share tips and strategies how to succeed if required.
The rules are:
No peeking at any sexual content
No Prn
No Msturbation
No lustful thoughts
After you challenge me and I set, I will put it up on the active ongoing challenges list
Just keep in mind, I won't lose. I've learned a lot from my around 2 year streak, 3 month and 4 month streaks. And this time im more serious than before and I have rewired companion for the first time.
This challenge is to make sure we both win and PMO loses. Honesty and transparency matters. In the end we are doing this for ourselves only.
Yes. First tell me What is your highest streak and when was it? How did it break? What were your last 2 streaks? And what is your current streak?
Highest streak 16
Current streak 2
My semen leaked
But I was not fantasizing




Ok brother, just read the rules I wrote above to @fracturedemon and send me a challenge accordingly
Brother,As regards my highest streak,it was 19 months.this was only because of my Lord Almighty Allah SWT. urges were there always but I never reacted to them…i guarded my eyes.didnt watch any movie, music video,or Netflix,left social media.ultimate reason for breaking that streak was that i started watching videos on YouTube…i broke those rules that I have been following for over 1.5 years.that was October 20,2020.i started nofap and no pmo on march 23,2019.
I don't remember my last two streaks.
UPDATES

@NFMan VS @krishvamsi30


7 Days of no PMO
14th January 2021- 20st January 2021

GAME OF MILESTONES TARGET : 5d, 10d, 15d, 25d, 50d, 74d, 111d, 148d, 222d, 333d, 444d made by @chelex

New rank: B
Let's do a 30 day challenge. InshaAllah
No fap Nightmare mode 30 days. Check telegram
This topic was automatically closed 10 days after the last reply. New replies are no longer allowed.