This is just an opportunity for all of us to take part in a productive event daily and divert our minds from urges and etc with a sense of responsibility of doing something good for the upcoming generations.
Shri Krishna said that
One who thinks only of the problems of oneself, becomes weak
But One who thinks of the problems of the society becomes strong
The most important way to get out of this addiction is to allow our brain to have some dominating domains of interests where we go everyday and thus slowly allow the domains in our brain corresponding to the addiction rewire and become smaller (Yes for sure it will take time but still that is only the way)
IF YOU WOULD LIKE TO DO A DAILY TASK OF TWEETING IN SUPPORT OF A MOVEMENT WHICH IS FOR A GREATER GOOD FOR THE NEXT GENERATION
YOU ARE AT THE RIGHT PLACE
You can get more information regarding the movement here only after this post if you wish to read it completely and satisfy yourself
You may even go to the site savesoil.org to know more about it.
Or if you just wish to take action now just click on quoted post
Save Soil Movement in a nutshell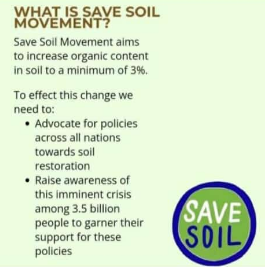 I will keep quoting the tasks of the day for each day here as this is a progressive movement (already on the go )
Go to the post and see the next post also for videos.
Go to the post and also see the adjacent messages
Go to the post and also see the adjacent messages
Go to the post and also see the adjacent messages
Go to the post and also see the adjacent messages
Go to the post and also see the adjacent messages
Go to the post and also see the adjacent messages
Go to the post and also see the adjacent messages
Go to the post and also see the adjacent messages