Sounds good. Thank you. Keep going

Check In :


Day : 18/50
After a long time I reched to 18 days. Hoping I'll not look back again at least few more days🙂
Check in day 4
That's great! We're coming back man, keep pushing.
On a side note I haven't been this far in a long time because my dreams are already getting weird if you know what I mean
I gotch you brother. Careful today( assuming friday for you) and tomorrow. Birthday icon showing on your name,so assuming this is the day you started promising yourself. So keep that in mind and Remeber one day at a time.!!
One more thing if we can cross at least 30 days, i am sure others will get motivated as well.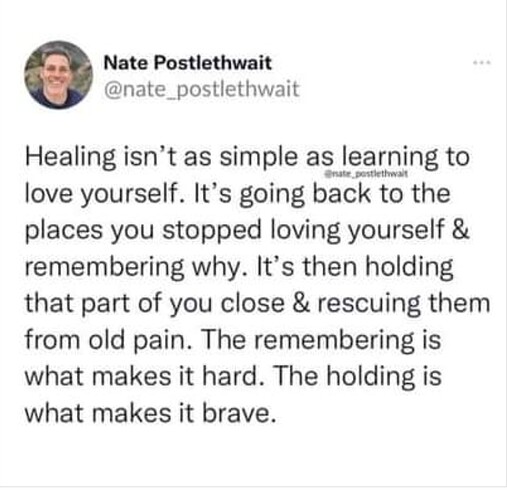 Check In :

Day : 19
@wall-e it is far from my birthday I will have to check that out lol, but I appreciate the motivation and will keep pushing
Day 5 check in
@wall-e I discovered that birthday icon isn't my birthday, but instead a reminder that it's been one year since I joined this app. It was kind of cool to see but also a humbling reminder of how long I've been trying.
Nothing changes, I'm experiencing normal urges that I just got to keep passing.
Thanks for finding that out and letting me know that. Even I was under an impression that birthday or starting day. Well, I am glad to hear that, you don't have argues. Keep moving

@mphexpert
Day 6 check-in,
Under control, catching myself making some mistakes but I haven't been taken by them
I relapsed.
I failed to realize the most subtle trigger on my phone. Advertisements.
I was playing a game, and the ads were powered by Google, which gives ads based on my likes. Unfortunately that leads to some triggering things, which sent me down the waterslide.
I haven't said this in a long time out of fear, but now I'm getting a little bit of confidence. This is the run, this is my return to being a Gentleman.
All games deleted, nothing with ads possible to trigger me. Let's get started again with no chasers
Check In :


Day : 22
When this PMO enters in your life it spoils your career as well as dreams. But you know what? Life is not easy for anyone. Don't give it up. Keep going whichever problems you have today, feeling sad and alone, like me doesn't matter tomorrow. Someday everything will change

have faith and never surrender. Because if you are surrender you won't wakeup tomorrow with same pain. Whichever pain today you have keep it with you. That's the only thing which will bring your dreams back. I know i am completely lost of my mind and doesn't make any sense. Hope you are strong and fighting harder than yesterday!!
Day 1
The stress in my life is getting me. I'm almost out of college and I don't even know if what Im going into is what I want to do. I need to learn how to not care as much. Quelling this stress will help in this battle
Day 2
I'm going to try to start putting myself out of my comfort zone. Time to get social and bust this
Day 3 check in
Maybe since there isn't any activity on this server we could make some different discussions?
Guys It hurts to see this page so quiet. I have joined a different challenge in hopes of a truly new and fresh start to the challenge. It is called NoPMO challenge for a better life
It seems very good and simple. I really hope to see some of you there.
I would like to join, I'm on my second day! d4h35q
I would like to join again.
Miss being on long streaks like I used to when I was active here.
My code is 8eikqh.
I hope all the gentlemen over here are doing well. It's not easy to come back again but you know what, you can do it


Check In :


Day : 22
@Mojisck @Earthlion No leads here. If you say, is it a dead group? Well, yes but i see it's a alive in my view. Feel free to join by yourself and manage by yourself.
Sometimes I think silence is better than repeatedly doing mistake. It took me 22 days to come back again. Well, It's equally hurts when someone don't come back what they promised


@mphexpert I can see your are doing well this time. Keep going. Bring this time some change in your lifecycle. I will be happy to see you growing daily
Congratulations on completing 3 weeks.