I'm new here please guide me how to start challenge
Hi, @faisql608, welcome to the community, I am also new, I hope we can support and each other ny sharing our thoughts.
I would recommend you to be mindful about your desires, and if you notice you feel the urge to fap, just come back here and read some posts to help you find some motivation.
Feel free to add me, here's my code: 42rvym
Thank you dear
I've added you
Here's a tip that works for me: ask yourself what do you really want to achieve by quitting PMO, and if you think you're going to relapse, remember your goal to keep yourself motivated.
Be strong, brother, you have my support.

Welcome to this awesome community, where we are fighting together with one single goal. To get out from the shacles of porn and to emerge victorious.
Participate in many competitions and challenges. It will motivate you.
You can add me as well. Sharing code-daaf29
How do we participate at challenges? I really need that
You can see , there are many ongoing challenges going on in the app. There are usually many criteria that you should go through on joining.
I'm also a newbie. Let's start the journey together. My companion code is : ikqlaj
I am also newbie please guide me how this works
What is this companion code?
It depends of each challenge , try to read much more on the forum because each challenge differs about rules and so on … read and if their are something you can't get it ask for it you will find and achieve your goals by joining challenges …
Try to search for challenges for example from the search

and you will find many , read it , share your code (you will understand why by reading ) enjoy your life .

[quote="Adidas2201, post:10, topic:34390"]
companion code
[/quote]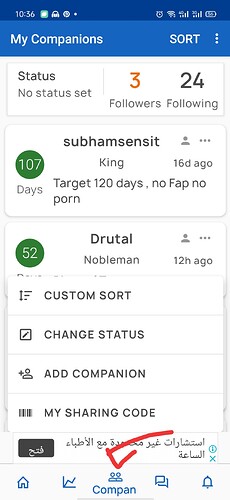 You will find from here your code to join the challenges and friends can follow you and vise versa …
Thanks brother
Bt i don undrstnd dis site properly I feel confusd. I thot dat may be i wil get wht I m lookin' 4.
I wil rd s u said
I don't use mobile

aplictn
This topic was automatically closed 5 days after the last reply. New replies are no longer allowed.