Pheww a sigh of relief.
I thought I might get banned for this

.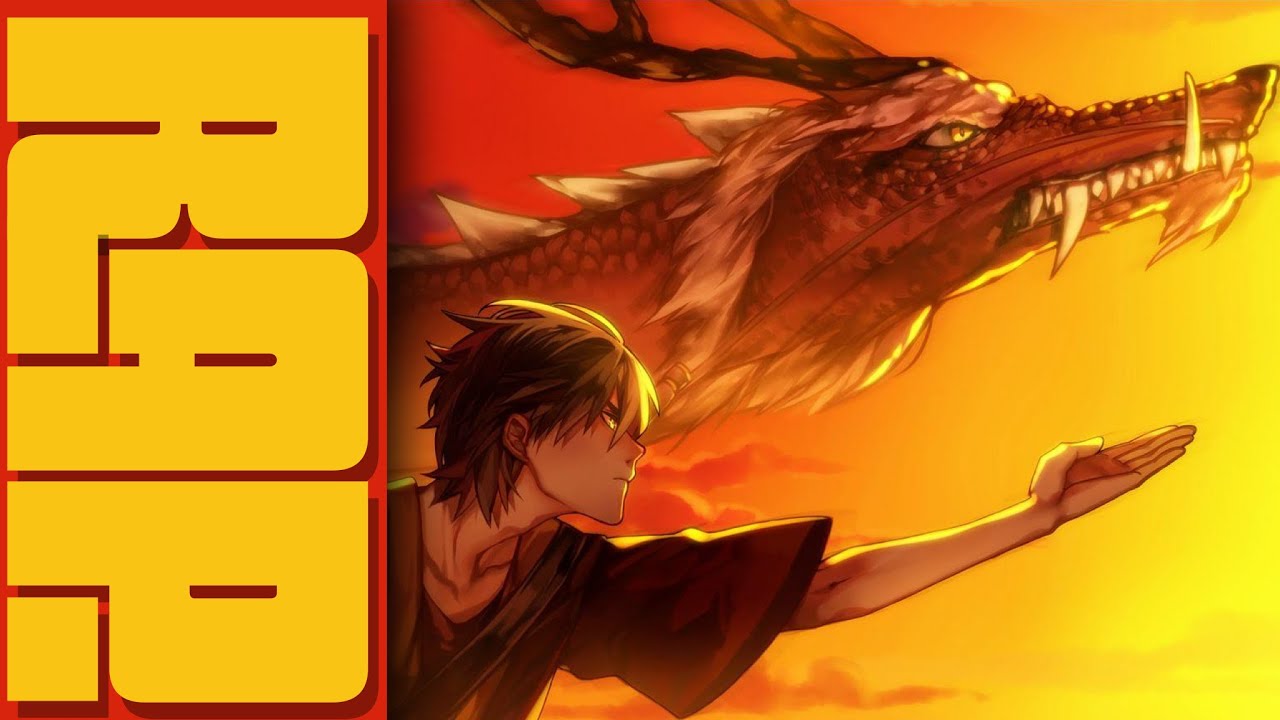 @Ash_Matt bro give the whole thing a listen! I think you'll love it just like I did!






the lyrics hit hard!
You bozos make me laugh my ass off, would love to learn so some shit from you dope ass Bois😂



my pleasure.
Though I am enthralled that I am able to make so many people laugh now, I was not the sharpest tool in terms of sense of humour back in college and school, no fap OP. I am awesome now😎
Yo dude it's fire, my honour has been restored

Check-in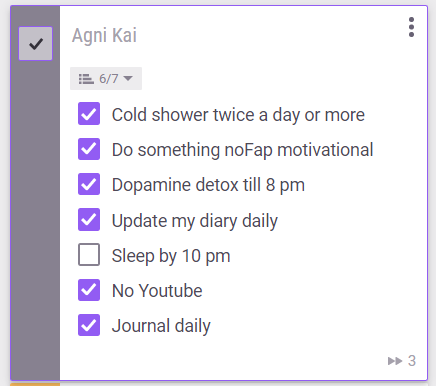 Quickly checked in. Not a good day. Not really productive either.



Flame on
Vincit qui se vincit.
@Ash_Matt brother please open this thread










I started feeling urges when stopped writing.



Please open it so that I can type in free times. Thank you brother.












I'm sorry I let you down ;-;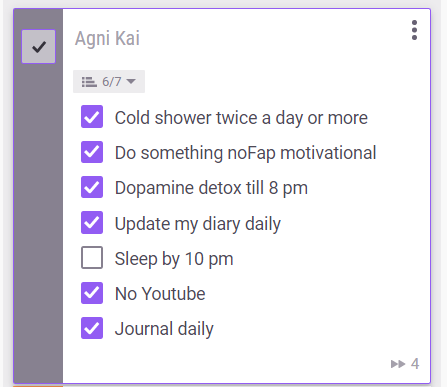 Check-in
Good day; not very productive but not bad either. Unfortunately @anon65589122 and @Alpaco relapsed today. Finally did an intense workout after nearly 2 weeks of not doing it thanks to exams. I'm dead but loving it.



Flame on
Vincit qui se vincit.
Check-in
Only one cold shower today. have some work to do so will sleep late.
Today was not a great day. First, I had an erotic dream (not a wet dream but it was not good) and after that I saw some NSFW content becuase someone on a nofap server posted a porn site on the chat. I'm not counting it as a relapse because it disgusted me and I closed it instead of wanting to see more. But yeah, still down. Not a great day either.
Finally worked out again (different muscle groups this time) and it's killing me so I like it. I bulked up over the last two weeks so it's time to make some more muscle.
I'm telling y'all right here and right now that from tomorrow I will give my all and abstain from any high dopamine activites till 8 pm. They include reading online books/fanfiction, watching YT (which I don't) and wasting time.


Flame on
Vincit qui se vincit.
Do you, by any chance, know where the guy who posted NSFW lives? I just wanna talk to him.
@Alpaco

Thanks man. It was on another server and I reported him to the mods. Thanks though. Good talk
Check in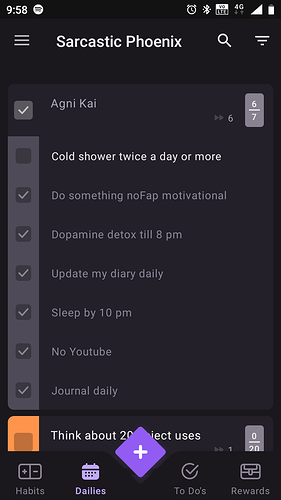 Not a good day. Lots of things happened that I would not have preferred to happen. Feeling depressed.
Thought of sleeping late and relaxing.
But you know what?
Freaking screw my feelings
I'm waking up at 4. Screw tiredness. I'm working. No one's interested in a sob story. I'll rise above. Screw feelings. Imma work.
I'm depressed. So what? Don't give a damn. I'll feel better when I'm done.
Last time (my 77 day streak) it was under similar conditions that I relapsed. Like real bad conditions.
Possibly worse conditions now. But PMO is not even a damn option that even crossed my mind.
I've got 99 problems and PMO ain't one.
Good night.


Flame on
Vincit qui se vincit












yo @Ash_Matt , try setting your goals very low, only for a day to check if you are really interested in your work.
When you don't do your work even when the bar is low, you are genuinely not liking what you are doing.
If you happen to coax yourself to do it, then you want to do but your mind is illicit in the nature.
If you do it with ease, well congratulations, it's a habit now.
I tried this and it worked well.
It will give you a break and also make you rest easy with losses.
It isn't sunshine all the time, the sun rises only when the moon sets.
Try this for once and you will like it, definitely worked me .
Thanks man

today I didn't work a lot, took a break. Felt better. Good idea.
@Samaranjay like I said, screw my feelings. Yesterday I felt like I was depressed and today I'm happy. Feelings are important, but not all important.
You're right


…
Check in
I'll update properly in a bit. As of now, taking @Samaranjay 's advice for public accountability I'll not go to sleep till I finish these 30 goals below: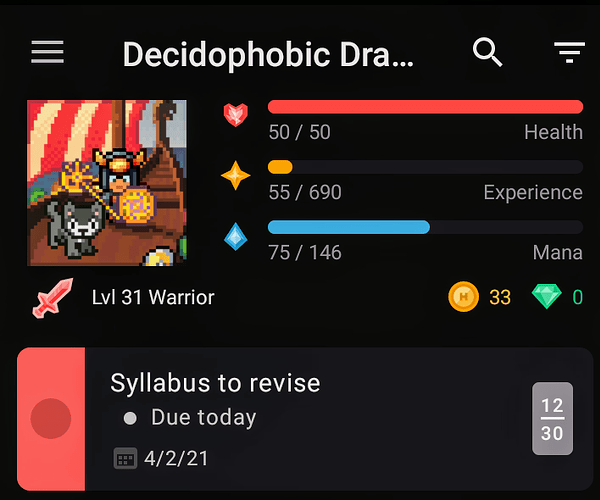 Damn when did I give that

? My first post on my diary?
Nah man. You said to make goals and do everyone was saying 'I will study X hours today' so like that these are my goals.
(Came here for a break. Off again!)
Nice nice, don't mess up your routine for goals though

.