Actually Sangri ugane main boht zada mehnat lagti hai aur hamare yaahn jo trees roads par hai uski koi dekhbhaal nhi karta toh toh unki quality bhi khrab hai
I was also about to ask that

.
I even heard the name for the first time, maybe it's local to your place, but @pingpong1 's hostel is in Rajasthan aa well, he should know about it.
It seems like some kind of bean.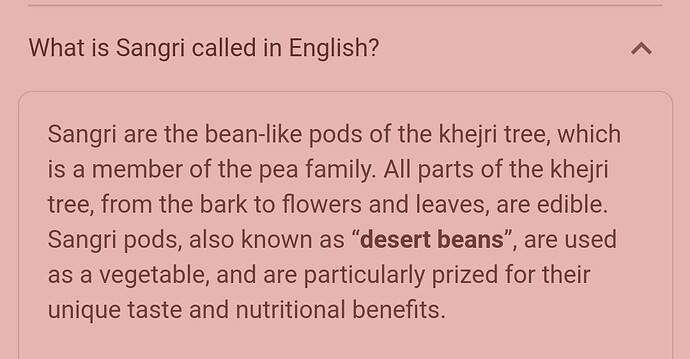 It's bean like, the tree grows more in desert areas so commonly found in Rajasthan in India.
Google baba zindabaad.
Oh… I remember now… from khejri Ka ped.



Well, it's common in Rajasthan
Mujhe lga koi ni ugata ise. Khud ug jate side m…

Relapses twice today.
I kind of think I have really wrong approach of quitting PMO. I just want to quit for outcomes like looking charming, just to be smart etc. It's getting outcome based.
When i achieve something like getting smart in studies etc my mind thinks that i achieved my goal and have the right to pmo
I want to make my self beliefs so strong against porn that i will never need that again. I want to rectify it in my identity. Changing my self principles, self image, judgements etc.
But change is not that easy I want to find that How?
Just reminding. This date you were not serious as well. I thought to acknowledging to you but thought it's kind of rude for me to say.but now I couldn't control myself. You are repeating the mistake. Time wouldn't stop for you me either. Now or never. No more relapses please. Don't search for 'why','what','how' changing approach this that. . Right now,get a life beyond this electronic devices.
That's quite rude

.
Take a chill mate. Dealing with a addiction is not just a game of putting your phone away. Contemplating on what went wrong or what is going wrong is a big part of recovery.
It's true what he said, @Samaranjay . Atleast in my case, it is far too deep of a harsh truth.
Read my diary. I contemplated a lot, spoke big complex words , tried to be inspired and inspire others, and yet, here I am. Knowing full well and aware of the pain it will cause I still did it even though the bells were ringing in the back of my mind. I believe the fault lies somewhere deep within me, the initiatives I took were not enough. And I KNEW they would not be enough.
But still , I am sure that this time it is going to be different. He is right. Time and tide waits for none. And I have started giving time the respect that is due.
@Samaranjay I agree with yoh, everyone has a different perspective. I resepct that. Well i wanted @BlackMagic123 to be serious on this. Sorry can't be so chilled when someone is repeating the mistake. Staying away and living in real life has definitely an impact on our life as far as i know. Please don't interpret other way. I said get a life beyond this what i mean is that, spend most of the time by doing other activities rather stressing yourself more/ watching unwanted videos on the net. Offcourse we can't live without a phone but by minimising what we can do.
That's great. Keep going…


I trying as much as I can, I am trying to be more productive in my life. I wake up early in the morning, I try to study more everyday
I understand there's life beyond my gadgets and I just strive to live that life
Yeah for sure. Now Its time to embark on a new journey.
@BlackMagic123 although it may sound bad but I regret to say you are not really concerned about your health and future, you are soon going to give boards. life doesn't give too many chances to attempt so make each and every attempt successful, time will come when you will be left with nothing but this funkin shit porn and noone else,
Ik during no fap journey it might be uneasy or difficult to understand and be serious at tough moments of life but believe once you are out of that limited radius you are fuking king with all other slaves and you are absolutely superior than others, those who have experienced that experience are always determined to never give up and know what it feels to be a fuking king of their life and do what they want
Conclusion- your main productive motive should be to not fap at any cost ANY COST and be serious this journey is not a joke you a have to be serious at certain times when you are fighting with the inner self.
I am concerned about my health about my future that's why i try to be better every day, trying to be better version. But many times I fail, fail and fail.
I feeling so confused right now like wtf is going on with me?
All of sudden why everyone assuming I am not serious about nofap, about my life etc.I am not taking them as a joke.
The way you act in your diary, okkkk it's okkkk


LoL

never mind
MAY 11
Study (5 hours min) :


Praying -


Sunlight -


Workout -:


Hanuman chalisa :


No social media -


No daytime Nap


Meditation -:


Adding to wake in b/w 5 to 6 AM :


No phone after 10:30 PM :