Any suggestions around 5 k
Try Kadence guitars, they're the best around 5k if you wanna buy online. But you should try in offline market first.
Sure !! Are you from Mumbai !
It's more expensive when you buy from shops. You get it cheaper online. But when you go to a shop you can try things out, and get to know what is comfortable for you. And then you can order the same thing online. Do your research first, don't jump the gun. Go to different shops and try it out. Check the prices everywhere. Now check if the one you like is available in online platforms. Check various prices on different sites and then make a decision
But I do suggest anyone who wants to learn an instrument to rent one for a month first before you buy it. Because if you find it really difficult and lose interest in it or get bored or just don't like it at all, you would have wasted your money. So I do recommend renting the Instrument whatever it may be for a month or two and see if it's the best instrument for you.
I love the UK bro! I always wanted to travel to the UK and Himachal area
Hey man I'm 15 years old and I've been playing both acoustic and electric for about 6 years so like my whole childhood,
If your looking for a guitar honestly any of the top 3 brands work as long as the body is looks good and strings make sound. seriously.
Top 3 brands I'm talking about is
Gibson
Fender
Ibanez (one i have)
As long as you buy a descent guitar that works for you. You are gonna be okay. As for learning guitar as a hobby in quaratine and to aid your NoFap journey. Let me tell you guitar is fucking hard man unless your a child prodigy you will have a hard time at the first few months. The key here is to just keep practicing and take frequent breaks. My 6 year old dumbass couldnt hold a C Chord for 2 seconds but I kept practicing it like everyday just holding the chord and not even playing it. When we ate dinner my hand was making the chord shape.
Lesson is don't give up learning a instrument like the guitar will be hard but it will push you to do hard things ultimately and so will NoFap. and plus it gives you bonus points on the babes. lol (they like when someone can play their song)
@sandey acoustic is actually more for playing cords or riffs, since the strings are metal or metal+ another component. Your fingers would ache if you tried playing fingerstyle in acoustic, which would reduce with practice.
However if your focus is purely fingerstyle, I'd suggest a classical guitar- it's built for fingerstyle and nylon strings means your hands don't hurt. Also the strings are more spaced, meaning it's easier to play fingerstyle. Acoustic strings are closer to each other. And tapping is very hard on acoustic, easier on classical, unless you have practice.
Hey peeps, I got this baby today from my local store. It's a Jumbo size Kaps ST-1000 CS model. Usually it costs Rs.6500 but because of new year scheme I got it for Rs.5700. First I was considering a smaller size guitar but when I played the jumbo one I instantly fell in love with it because it's sound is much louder and clear. It's feels a bit bigger rn but I'll get used to it as I go.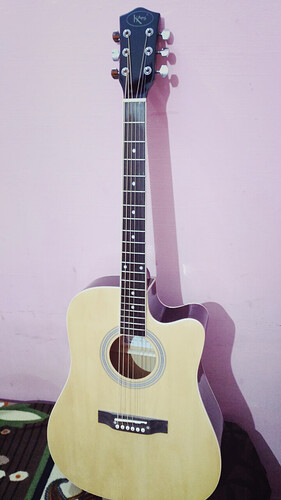 She's a beauty! Practice a lot. It takes a lot of patience to learn guitar
Now that I've bought it, how do I learn?

How do you know her gender?


There's something called fingerstyle in guitar playing… Men don't require fingering do they? Women do! And that's why guitars a she!

No but in all honesty, we tend to call cars, bikes, music instruments, ships etc as a she. Don't really know why

bhaisahab bacho ka to lihaaz karo

You are one to say!

I still remember " mauke pe chauka mar de!"


Backfired

galti ho gyi bhai. Abhi kisi ko bhi mauka mile to chauka mat marna.


@vickyx Ask someone you know to teach you or check out YT/Coursera
Okayy thank youuu

I used to play the guitar, i could recomend you some techniques or YT channels that had help me. sorry if my english isn't perfect