You were going to sleep


Yeah brother, This is epic.
accidently found the one

I was playing trivia with @GOVIND-19


You were going to sleep




waiting to find the one in real life too

Last night update Serious stuff
Last night we had a good discussion about profile pictures and all then I played some trivia with @GOVIND-19 . I wasn't sleepy even by 1 because I had a nap late in the evening after 4 pm, so I was up late, but one incident, I was scrolling through my insta and kind of stumbled across some triggering stuff, not that serious but still I had some urges and I was about to fall and about to search for erotic content but then I realized wth I was about to do, I am happy with my life the way it is now, can't afford to go back to that shitty life, For the first time in my life I have biceps (14 inches, not great but still) and 4 packs, I used to fap so much I never gave time for my muscles to grow. I am easily able to do 8-9 hours of study whenever I want to, I remember last year before joining the forum my highest study time was 6 hours a day, I used to think that I can never cross this number, I even reached 6 hours rarely

. All this could have gone down the drain in a moment. Then I introspected what was the reason I came this close to a relapse and I figured it was just my mind playing tricks with me, I had temporarily deactivated my insta account earlier and my mind tricked me into activating it again, it was just a way of that little monster to stay close to his old addiction, tho I don't follow any triggering account there but you never know what you will stumble across. Then I thought do I really need insta? The answer was I have some good memories on my profile so completely deleting the account was not an option, then what? But do I really need it in my day to day life ruining my mental peace? Answer was obvious, no. So I deactivated my insta account temporarily again and I am not gonna activate it until I get a job and get settled and I when I say this I mean it. Activating my insta account is a relapse for me now

.
After that I watched some B99 and slept (Too late around 5

)
Instagram is full of erotic content. Stay safe bro. Don't use it. I don't use it.
Now about today
May 5 update
Last night I had changed my super saiyan dp and see what happened


, it really is a totka, that's why first thing in the morning I spent a lot of time searching for the perfect super saiyan dp and edit it so that it could fit perfectly as per RC dp standards.
I woke up around 10. Very little sleep


Then after updating my dp and spending some time on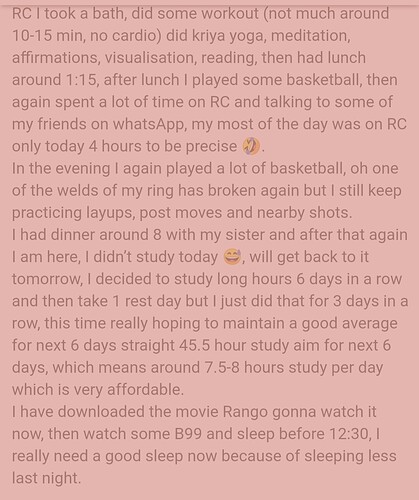 I wrote it and because of some internet issue it got ignored, luckily I clicked a ss so shared that


, don't wanna write all that again.
Yup not gonna use it now.
What is B99?. You watch it a lot?
Brooklyn 99, that's a sitcom (situational comedy), it has 7 seasons with about 22 episodes each, I watch 1-2 episodes per day. Sitcoms are a part of my daily routine

, I finished modern family before this.
You remember me saying I wanna go to sleep early to wake up early? Yea I ended up sleeping at 2​:joy:

but I did get up early so not all bad
Nice

, I slept at 5 so no where close to me


Shouldn't really be boasting about that.
Now switching my internet off. Will not use RC till tomorrow night.
6th may update
I didn't watch rango but spent some time talking to friends them watched 1 episode of Brooklyn 99, and went to sleep around 1, I didn't keep an alarm and I am already ashamed before writing the next line😂 woke up at 11:30

, that's 10.5 hours sleep uninterrupted, not proud of it but I guess it was much needed, I had been sleeping less than 7.5 hours from past two weeks and yesterday I slept only 5 hours so I don't blame myself for it, it was bound to happen

.
Then I freshened up, worked out, did kriya yoga, meditation, affirmations, visualisation, reading, had milk and cereal, studied half an hour, had lunch around 2:30, studied a bit then again took 35 min nap


(it was raining heavily and I have become habitual of daytime nap now

)
After that I studied with breaks till dinner, played a little bit basketball in the evening, had maggi and soya bean halwa for dinner, then studied till 11 with one break in between, in total 6 hours study. Didn't use mobile whole day until 11pm, now I am gonna watch some B99 and sleep before 1.
Lol here also it was heavily Raining …
Chd and hp are close enough

, almost same weather, but Himachal is much colder.
Here, Too it was rainy type weather but It didn't rained strongly.
Badaal to aise bane the jaise seedha nal chalu hoga aur baad ajayegi…heh




Haathi k daant dikhane ke alag, aur khane k alag.
Never challenge Nature just kidding, phat gayi kahi sach me na ajaye








. Anything is possible now a days.
Where are you from btw?
Confidential info…btw MP






Don't talk about confidentiality with the person whose username is his original name

Nice.





btw name can't reveal much about you. There are many samranjay in this world