Damn




All the best bro, ho jaaega sab.
Epic one


. Go get them tiger (spiderman 2 ).
I am also having exam tomorrow. Honestly , I am fucked up , But I am fine. Reminds me of a meme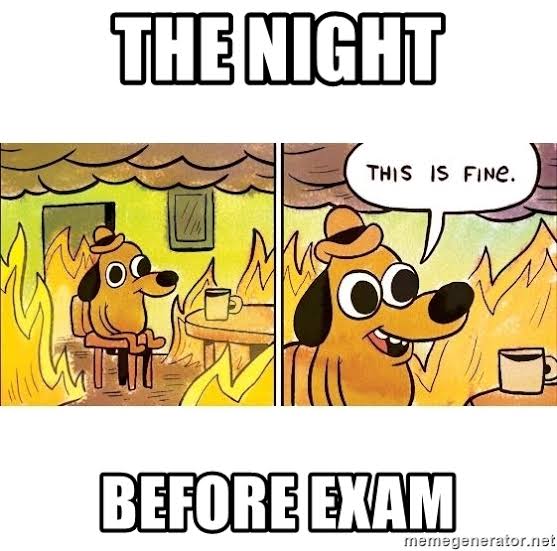 Anyway all the best bhaii !!
Mast bro… we were given some relaxation . More optional questions. So completed all questions. I hope my calculations were all right … So that's about it.
Mera toh Roz ka ho gya hai, even though I exercised a lot and I am tired fir bhi nhi soya

Damn


, ye kya scene hai bhai, Specialranjay. Main toh bed se na uthun.
That's what she said, so i am going to sleep now

. Good night bhai . Moonknight won't sleep before midnight.

Goodnight main bhi so jaata hoon ab Bhajan band krke



And why were you awake till now?
M to abhi bhi jaga hua hu. To kya ho gya




Bhraata were you doing Jagrata?



, wo main rc ki peheedaari kar rha tha.
Tbh, kal dinner late se bana tha, toh khaane 1-2 ghnte baad sone jaata hoon main

.
Neend khul gyi thi bhai . Aur waise bhi moonknight ka asar ho gya h. Ab 12 se pehle neend hi ni aati.
12 is early for me

Terrible man , will fail half of the exams
It was just one day. How did you give this many exams. Or was it unit test/ mid term??
We are having 2 exams a day. So its Tuesday, so 4 exams over out of 6.
Sed life.
Thankfully I had to never face this level of torture.
Our midsems were 5 exams in 5 days, it was enough torture.
Oh same procedure here…


No worry bro… 2 are still left. Give your best…
We also had the same system for a year but after COVID all things changed…