Journal
I can tell Im getting well again :-D*
getting up at 6am
stretching calves (60s each)
warm water on empty stomach
pullups
back exercises (25)
cold shower
cleaned up my room in the evening
Meditation (5min)
stretching rounded back (60s)
Stretching for better back posture (2 sets)
stretching by touching toes (1min)
stretching neck (1min)
auto-suggestion in the morning and in the evening
big breakfast
went to bed at 9pm
drinking a lot of water at 5pm
prepped meal for the next day
shoulder raises (50 per side)
shrugs (100 reps @ 15kg)
Body trainsformation commitment (workout 6d/week):

ill
In post
Im wrinting this in post, I didnt submit the journal this morning. I want to get an overview of my goals and current situation:
Goal: getting 2 knives in 2 days production right.
Whats necessary?
Just steel, everything else is there and the steel is already ordered too. I should make machetes or kukris I realize now because thats what most people are actually looking for. Dont stray now! Most people are looking for kukris thats true but my whole focus was to find a way to make good kitchen knives! I cant digress now. I ll keep in mind that people may want to do this and they can do it by forging a file into a knife with me for maybe 100€, thats a reasonable price. Making money is necessary. Making many kitchen knives whcih are extremly high in performance and visual quality is extremely important. Getting the website up to speed iimprotant. TGetting hte sharpening service right is important. Getting the bottle pener production up to speed is important. Whats missing for those? Nothing is missing! All of those acn be done. I finished the knife throwing stand today, its completed! People can statrt donating money now. I already ahave a passive income ;.D Even if its just a few euros per day.
Necessary next steps: using the steel once it arrives to ramp up the knife production, finding a way to make the handles quicky. THey are absouktely not done quickly at the moment. THey need to be ground for a long long time. Thats not fine. THey need to be completed some other way… I ll leave it be the way it is right now. The situation is fine, my current way of construction is a high quality one which I can highlight to increase the price. It adds a loto f value to the knife and my goal is a perfect knife for a high price. I dont want to make low cost knives. I want to make a good extremely reliable knife.
The website has to be brought up to speed and my business of making websites for others for cash also needs to be ramped up. More activity! Which activity is ncessary? A picture of my ideal website has to be drawn and this ideal has to be programmed, then Im done. Pictures uploaded and thats it. I sould separate the planning from the working to decrease confusion. The knives I have have to be dispalyed on the webite and the other objects I have created too, thats al l teh website needs to do and it needs to inform about services. I need good pictures in good lighting. THe bottle openers can be done right away, they are absolutely not hindered in any way. I again used the gas forge today and did not yet test the increased hea for a new batch. I will do this tomorrow. A for sale sign is missing, I should use heat to brun the words into a plank of wood and screw it to my sales table. THe rune punch is not there yet and I dont have my own logo to punch yet either. I want to have an anvil logo,thats not impossible! I ll create one. The lower side needs to be drilled and the rest can be cut. Acutually I think everything can be cut wihtout any drillling. Anvil: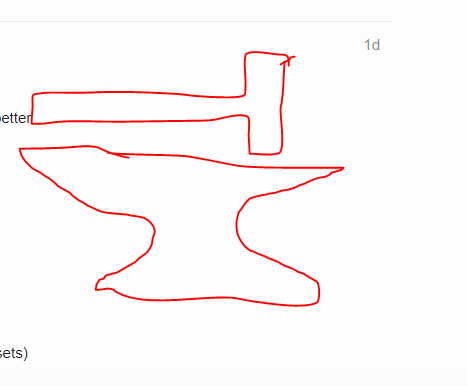 Pretty mcuh like this without the hammer. THis is then left over in the punch with which I can then punch little anvil logos into my knives.
Im very impressed by a knife I came across (not mine):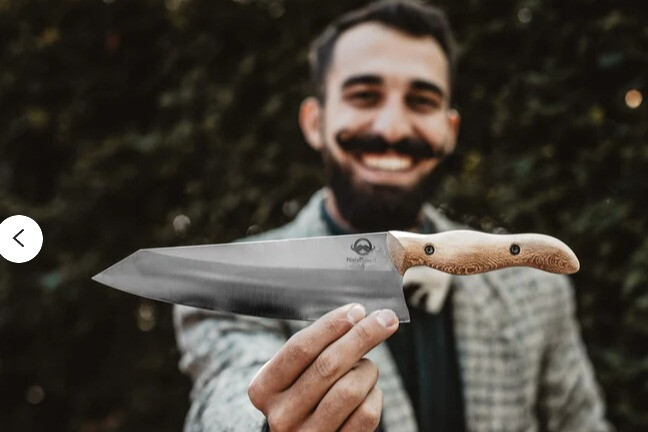 Very nice finish!