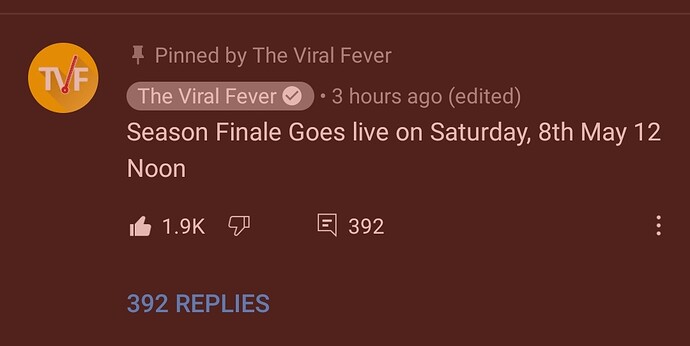 @rewire_user
it's official now

, it will come on Saturday

Thanks for the info brother !
Or I would have wasted the whole day tomorrow also


.
Well It's very Far away 8th May.
And I pray that This would be end of Aspirants. I don't want Season 2. Youtube series season takes 3-4 years.
Kota Factory is still a mystery was vaibhav able to get into iit or not.



Just praying it to be the satisfactory End of Aspirants
Well most probably it will be the end, they don't have much to show because we already know that abhilash becomes IAS officer.
But let's see what happens

. Anything is possible.
I am praying that abhilash gets dhairya back

.
It broke my heart when he pulled out the spectacles and the case that dhairya gave him.
Feeling charged up !



I am Gonna Kill every single urge of Mine,
Now It has came to my name/respect I shall prove them Wrong.
I will not spare anyone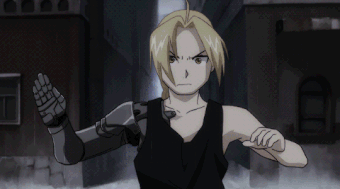 My team has given me a Huge Responsibility I shall not let them down,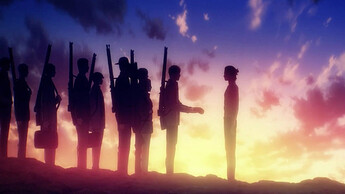 We are gonna win this war, Everyone has the same enemy PMO
Let the professionals Handle it

That's the spirit! No mercy!



And we'll be there to help you whenever you need us! We will not let you down either!


Cough CSK too * cough*
We're on it bro!










.
You are in a team with the best all equipped with their own strategies.
Just contact any of us anytime, we will do our best to make you beat this shit.
But as far as I know, you are already doing great. I am seeing that potential and spark in you

.
We all will make it, Goooooooo RCB
Sorry to Say this Just now I was extremely motivated but I was facing urge, I didn't give a damn about it.
I Kept fighting a bit, Then opened Forum. There is a thread "Music too Nofap" , It distracted me completely and I shared one music and Started listening to it.
Urge gone feeling like never had one.
I will stay Strong.
Song is another alternative for defeating urges, Glad that I realized it.
Bro why are you sorry

, feeling urges is normal, you overcame the urge, you should be proud of yourself instead of being sorry.
You guys won't Believe what Happened tonight
I made my mind to peek, I had a thought about the last month when I watched anime p*rn for the first time. I wanted to watch it again. I made my mind that I will watch that one video and control myself by playing game or watching something else. And Now here, the act of God takes place. You won't believe me but I opened in my laptop and my data pack was over just a moment ago, I was watching YouTube. You will think whats a big deal.

But, Wait You all know how desperately we try for these things, It's surely an addiction. I went to my parents and started to look for their phone. Opened hotspot of my mom's phone. Went back to my room. It wasn't working. I went back there. Checked data pack over. This was the time when I thought let's leave will watch some day later. But noooo ! It's an addiction, my mind knew my father doesn't use data a lot. Went and with full confidence knowing that It will definitely have internet. I switched hotspot on. Came back, No internet. I went back, Got scolded by mom.

checked and found data was off. Turned it on. Went back closed light, still not loading. Already realized, Data pack over



, didn't go this time.
But We say in hindi, Dubte

aadmi to tinka ka sahara hi kafi hai , I found that hotspot of my uncle is on.




I knew the password, It got connected. But now listen carefully




When I searched and was about to open the video, My laptop suddenly switched off by itself. Just because of overheating.



I gave up now.




Thanks to God



After sometime, Data pack returned back. Then I started listening to ost, music and opened Forum. One of my friend helped me to defeat the urge. And Here I am


Feeling Like A King, after defeating such a strong urge
Wasn't possible without the help of you man, @Samaranjay Thanks a lot


.
I hope it didn't take much time to read


Stay Strong Everybody
Tatakae Tatakae




Damn man




.
When you want to achieve something badly, the universe conspires to help you achieve that
God's grace is on you boy. RCB will win.
Khud ki diary ko, comedy bana dia… Beta mauj kardi @rewire_user
Rcb will win



don't relapse…

Mazak se hat k sach me hua hai bhai !


Aur maje lete rhna chahiye, agar khud ki zindgi hi me kuch maze na ho rhe hona, to zindgi hi maze le leti hai.


Khush rhna, maze se rhna. It's working for me. It gives me dopamine so that I don't have to look for dopamine from cheap sources. And I can defeat this monster PMO through this trick I believe. This works for me most of the time.

17 18 saal me bhai 15 din ki streak banana bht mushkil he.lekin zid banne se aram se hojayega… Lage raho…


Thos boy is learning







.
@rewire_user I watched the final episode, I was expecting that last episode would have the potential to make me cry, but it didn't

, not blaming that it was bad, but it was not great

, aise lga kuch khas hua hi ni

, seeing Abhilash throw Dhairya's spectacles in dustbin and Dhairya getting married to Guri broke my heart.
Quotes were great btw, motivation was good too.
The Exact same feeling, I thought the same brother, to be honest I thought It will be better than previous episodes. Only the sandeep bhaiya scene felt good to me. And that also might not please many people but since I like sandeep bhaiya's charecter I like that scene. I am sorry you might not agree from this, But they were just slowing the whole episode using slowmotion everywhere. Mereko laga mai aage badha du itna slow sab cheeze dustbin me phekne me 5 min laga diye. Itne me abhilash ne crack kaise kiye utna hi dikha sakte the. I guess "Main material" kuch dikhaya hi nahi…Thoda aur bada kar sakte the episode ko…Guru aur dhairya kaise mile unka hi kuch dikha dete. Bus ye bhi bhai harry potter ki tarah yaad bana k chala gya, Harry ki shaadi hermione se kyu nahi hue, Jaise uska dukh hai waise is episode 5 ka hai thoda aur acha ho sakta tha.
The thing is kuch jada hi expectation laga ke baithe na isliye shyd utna khaas na laga ho…Btw overall series was EPic

5 episode me itna acha story pretty much impressed by this fact. Also, I am happy there is no season 2, season 2 ki naubat na aiye isliye do timelines ko ek saath episode me chala rhe the, shuru me hi dikha diya ki IAS to ban gya hai, nahi to kota factory ki tarah vaibhav ka hua ya nahi

Overall Fantastic
Just episode 5 thoda acha ho …

ok ok fine last time


Damn




, I literally thought the same thing, itni der lgai usne gaadi se nikal ke chasma faink ke mandap tal phinchne me



, and I was expecting the episode to be around 1 hour at least, I was confused how they'll tell everything in just 40 minutes.
I feel this, guri ke sath relation build up dikha dete dhairya ka tab bhi shi tha, matlab yeh toh random sa hi ho gya


, and I waited whole day to watch this



.
5th episode thoda nhi kaafi acha ho skta tha.