Be strong brother!
Stop relapsing right now!
Workout and pray. Fight against what pmo made you. Start with making your bed, eating and taking shower. Clean you room. Workout and pray!!!
Damn , I gave my phone to my dad yesterday . Today I was literally panicking and couldn't even focus much on studies coz I have habit of checking phone before studies and after completing an hour … Well I had no choice other than to sit with this urge .
I'm right now stuck in chaser effect and my current streak is just 1 day . This time as I have no access to phone except my dad's phone that he gives to me during night for 1 hr I hope to succeed this time …
Well I'm able to sit 1-2 hrs consistently for studies nowadays as compared to when I was just lying on bed whole day … I will increase my sitting hours .
NOFAP FOREVER
Enough of running from Problems and hiding behind PMO . PMO just gives temporary dopamine that makes us forget the real problem and this make us relaxed for few minutes …
But the truth is more we postpone the Problem and hide , it will become more bigger and bigger…
Let's be a MAN AND FACE THE PROBLEM
I relapsed


. I'm so depressed, Need to work again .

It's been 21 days since I'm stuck in chaser .
yeah man chaser sucks, i can feel you right now! but we will beat it ! we have done it in the past!
Yeah man need to fix this shit , before it's too late .
It's okay to fail… But never give up bro…



every relapse gives us a new strategy for next game.
Bro don't let this year get away, we need to be careful as you said, 2021 will pass in one blink of eyes.
From now on I will be writing my daily schedule in my diary … I'm at high risk of relapse if I didn't be disciplined . To end the chaser it's very important that my every hour of the day should be planned and not be wasted …
@Dean_Ambrose Never consider relapse an option. It is not worth. Start treating urge like an enemy in person. If you see a Cobra in your room will you surrender to it or kill it? Like this Kill your urge either by coming out of the house and running; exercising; meditation; Chanting holy names of the God or taking cold shower; fasting.
Considering an urge like a personified enemy is what taking me to 58 days till now. Find ways that work for you. @Dean_Ambrose bhai You are a brave man. Dont think of relapse. Starve pmo to death. Now no looking back.
2021-05-07T18:30:00Z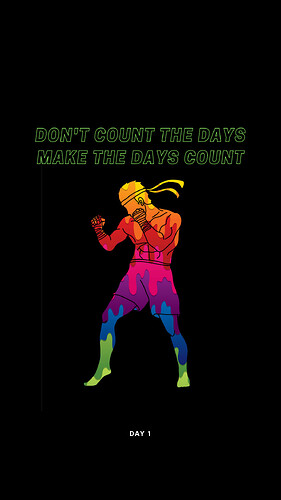 Wake up at 7✔️
Praying


Meditation


Study

(not that much effective)
Nofap


No Youtube


Sleep at 12✔️
Day 2
Wake up at 8


Praying


Meditation


Nofap✔️
Study❌(Not Satisfied by myself )
No YouTube✔️(Finally)
Affirmations


Sleep at 1✔️
You can do it bro. I send you power to ascend.
Peace.
DAY 3
Urges are killing me . Only studied 1 hrs till now. Can't focus on anything …But I can't afford a Relapse . I spent most time today on the forum , and did meditation quite few times… I need to keep moving . I can't let my Team down…



Keep going bro

. No looking back this time.
Yeah, When it comes to urges. Nothing works brother. It all comes down to the mindset. You have change that. Think of it like What is different in those filthy videos. They are all same. Make your mind realise that You have got bored from watching the same thing again and again. What's new in them, everytime the same.


Bored af.
And next thing, You should watch some funny stuff or something interesting. Divert your mind. Message your friends.

You have to win brother you started the ipl bro. You are the founder brother. You have a big responsibility you can't just give up. It's your challenge brother. You have to stay strong. To push everyone else forward.
We are all together in this

Isn't it ?
Let's win this time.