@prothekter_aden if only schools were like this:
Yessss
Ikrrrrr. This video was good.
Such a woke student prince Ea is

.
Good message.
where are you practicing and what's your rating?
Chess.com and 1200 average… (blitz.) I don't play rapid much but if i did i'd be like 1300 or 1325
I just played with Warren buffet

and won.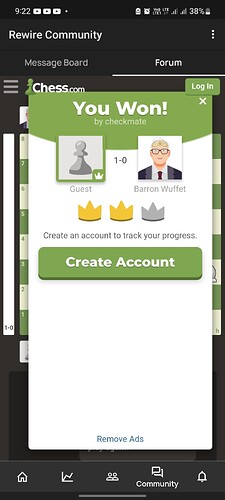 Actually I played Chess for around 1-2 years when I was in 8 class. But after 11th class I never got time for chess.
If you want then we can play match and I want to see that can you defeat me with full practice.

Barron wuffet warron buffet same thing
They changed his name after completion of match. When I started the match opponent's name was Warren Buffet in opponent section.
Sure… Wanna have a go right now?
Let's do this. But don't defeat me too badly bcz I don't have any practice from last 2-3 years

Send your username in dms. I'll send u a request.
Checking in for day 28


4 weeks donee babyyy!!

Checking in for day 23 NNN


Only 7 fucking more days to go. Lets do this.

Do u play too? Whats your rating?
I used to play in Lichess. My rating was 1250-1350 range for blitz
Ngl bro lichess rating is a scam




On lichess mine is 1600 lmao
Idk I used chess.com too. I had similar rating. Lichess UI is better than chess.com. So shifted there.
Checking in for day 29


Checking in for day 24 NNN

Tomorrow is day 30 my guysssss letsss gooooooo.
(So did i just complete NNN indirectly?

Cause i started early lmfaoooo)